Sole Survivor!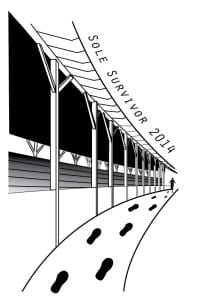 Hometown Happenings
Sole Survivor Progressive Race
Wednesday, July 9th, 2014, 6:30 PM

Stay updated by "liking" the Hometown Happenings facebook page.

WHERE:
Lake County Fairgrounds
889 S. Court Street
Crown Point, IN
How does this work? 
For ALL skill levels.  TRY to SURVIVE!
All based on CHANCE.. from 5 miles to 17 miles!
Stage 1:  The race begins with a 3 mile race around Francher Lake.
The top 1/2 of men and the top 1/2 of women will then move on to compete for prize money!  Everyone else can still run each successive stage for a chance at winning valuable prizes – but not the cash!
Stages 2 and on…:  The distance of Stage 2 and subsequent stages will be determined by rolling a giant die (1/2 a pair of dice) to determine the number of laps around the lake (1 thru 6 laps).  For example, if the roll is a "4″, all participants moving on to that Stage will run 4 laps.
After each Stage, the field of men and the field of women will continue to be cut in half until only 1 Man and 1 Woman remain to claim the cash prize!
So, how LONG is this race anyways?!
Depending on the roll of the die, this race could be anywhere from just over 5 miles to more than 17 miles!  Remember, you may drop out at any time.
COSTS & REGISTRATION (Registration begins at 5:30 PM):

Through Monday, July 7th:  $20 for adults.
Event day registration: $30 all ages.
SPONSORS – Become A Sponsor & Make a Difference!
Click the Sponsorship Form and make a difference!  Your generosity helps cover the costs of t-shirts, insurance, course management, etc.  Please consider adding your business to our list of sponsors.  Stop in and visit our current sponsors and thank them for supporting our events.