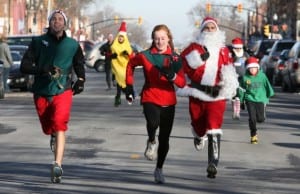 Online registration is now closed.  Event day registration is $25 for all ages!  See you there!
Santa Walk & Run
Saturday, December 20th, 2014, 9:00 am
St. Mary's Catholic Community School
405 E. Joliet Street
Crown Point, IN
Stay updated by "liking" our facebook page.
Started in 1982, this is a non-timed event for both athletes and non-athletes.  The Santa Walk & Run is about spreading holiday cheer as Santas in full Santa outfits (or Santa hats or other holiday wear) walk or run through town.
NEW for 2014:  Sleigh Races to  Support Your Charity!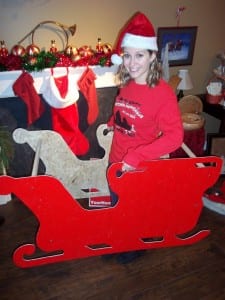 Cash Prizes for "Fastest Sleigh" & "Best Decorated Sleigh".  Gather your team & race other sleighs down Main Street!  To enter, simply raise $100 or more for Your favorite charity and gather a team!  Each team must have 1 "Santa" and 4 or more "reindeer" to lead their sleigh.  Sleighs provided to each team courtesy of S&E Woodworking & can be picked up at Carriage Court Pizza or email Tim@yourhometownevents.com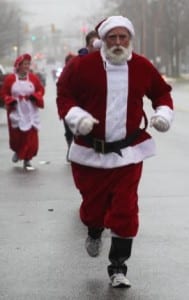 The Course:  A 5K Run and a 1 mile walk taking place on Main Street in Crown Point!  Be part of the spectacle as cars honk and onlookers wave as Santas pass them by.
Event Schedule: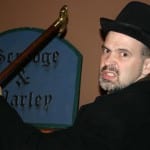 8:00 am – Check-In for the event.
8:15 – am – Music by Sarah Archer.  Visit with Santa Claus.
9:00 am – 5k Walk & Run Starts.  Music by DJ Donnie.  Post-race snacks.  Smoothie King smoothies available – $3.
9:45 am – Costume Contest Awards
Your Entry Fee Includes:
LIVE entertainment before and after the event provided by Sarah Archer.
Photo booth provided by Memories in Minutes.
Music along the route provided by DJ Donnie.
Refreshments after the event provided by Chick-fil-A & Carriage Court Pizza.  Also Mexican Hot Chocolate from LaQuesadilla Mexican Grill
Costume Contests!   Both individual & group prizes will be awarded!
A visit with Santa Claus & Scrooge!
Raising money for YOUR favorite charity!
Featuring LIVE performance by Sarah Archer & John Fister!
Whether you know her from her passionate solo performances or as the lead singer to "That's What She Said",  Sarah Archer continues to build her as one of Chicagoland's top vocalists/performers.
Likened to John Mayer, Jason Mraz, and Jack Johnson, John Fister has done everything from a national tour to being an "American Idol" contestant.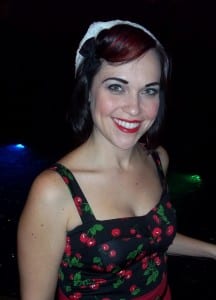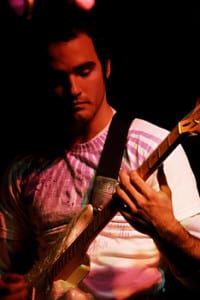 Cost:  Online registration is now closed.  Event day registration is $25 for all ages!  Hope to see you there!
If an event is canceled due to extreme weather conditions or unforeseen circumstances, this site will stay updated and the money collected (after expenses) will benefit the top charities.
If you have any questions, email us at Tim@yourhometownevents.com
SPONSORS – Become A Sponsor & Make a Difference!
Click the Sponsorship Form and make a difference!  Your generosity helps cover the costs of t-shirts, insurance, course management, etc.  Please consider adding your business to our growing list of sponsors.  Please buy from our sponsors listed below: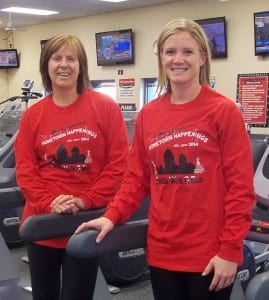 Chick-fil-A Merrillville
Extra Mile Fitness Co.
First Merchants Bank
Horizon Bank
La Quesadilla Mexican Grill
Safe House Bar & Grill
S&E Woodworking
Spyceware Sewing Center
AJ Specialties
Barbara Jean's Gifts & Gourmet
Brad's Designs & Jewelry
Centier Bank
Fleet Feet Sports
Flexeon Rehabilitation
Goodman Sweets
Kauffman Chirporactic
Kiki Productions
Smoothie King
Share this post:
on Twitter on Facebook on Google+