Click HERE to stay updated on all the latest news about the Public Enemy Fest on our Facebook page.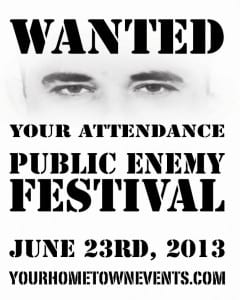 Our next event will be the "Public Enemy Fest" on Sunday, June 23rd from 10 am to 2 pm.  This event will kick off with the Public Enemy 5K Run/1 Mile Walk.  Whether you participate in the timed 5k run or in the non-timed 1 mile walk, participants will be able to vote for the school, church or charity they wish to see benefit from the event.  Organizations that receive the most votes and those selected in a random drawing will share in the proceeds.
You can register for the Public Enemy 5K Run/1 Mile Walk HERE.
After the Run & Walk, enjoy the rest of the festival which will feature costume contests, live music, food and merchandise vendors, and activities for the kids.
Sponsors Needed!
Because this event helps so many local organizations, it offers a unique opportunity to reach a wide audience of potential new customers.  Rates to sponsor have been made very reasonable to encourage as many in the business community as possible to take part in this event.  For more information about becoming one of our sponsors, please email me at Tim@yourhometownevents.com


on Twitter


on Facebook


on Google+