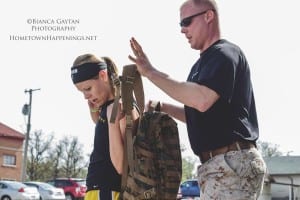 Are you tough enough to challenge the "Beast"?
Hometown Happenings will be hosting the 3rd Annual Beast Boot Camp 5K Race on Saturday, May 9th at 9:00 a.m. at the Lake County Fairgrounds.
Designed and staffed by U.S. Marines, this event features stations along the course with boot camp exercises.  Compete as a team or individually with prizes awarded for Top Overall, Top Masters, Top Teams as well as Age Group Awards.  You must complete all the stations to be eligible for a top finisher award.
While the course is difficult, athletes of all skill levels are invited to participate and there are both competitive and non-competitive divisions.
After the race, the Marines will tests participants with pull up,
ammunition can lift, and tire flipping contests.  Vehicles from the American Museum of Military Vehicles will also be on hand.
Special to this race is participants are able to give a local veteran they know a free meal valued up to $10.99 at either Carriage Court Pizza, Safe House Bar & Grill or Veteran's Café & Grill.
Advance registration is $30.  Event day registration is $40.  Shirts are available for an extra cost of $10.  To register and for more information.


on Twitter


on Facebook


on Google+