Notes for Sunday's Eggsellent 5K/10K –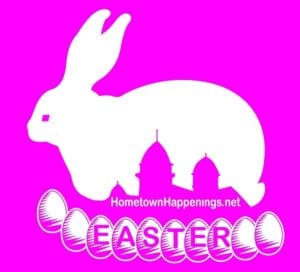 The run is this Sunday at the Lake Co. Fairgrounds.  We will be in the Lions Club shelter which is across from the playground and is the shelter you see as you drive along Court St.
If you can park by the Grandstand, that will help us keep cars off the race course.
Sign in starts at noon – this will be the ONLY packet pickup.
The race will begin at 1 pm.  Runners & walkers will go at the same time.
The course is 1.55 miles.
— 5K runners will do the course TWICE.
–10K runners will do the course FOUR times.
— The course will be marked with signs, white chalk and with course marshals.
— For the FIRST time, we are going to try plastic cups instead of disposable paper cups.  This year, we are trying to find ways to lessen our impact on the environment.
Along the course, we will have eggs scattered.  Each participant should grab 2 eggs along the route to bring back with them.  Some of the eggs will be worth prizes including a cash prize of $100.  We will also have a "rabbit" on the course – the first to tag this runner will be given a gift as well.
PLEASE NOTE: This is "old school" timing. There are NO chips!  So, when you go thru the finish chute, you will be given a place card.  Give that place card to the attendant at the computer table so we can record your time and place which we will use for the awards.  If you do NOT take a number or do not give it to the volunteer at the table, we will not be able to record your time.
After the run, the Easter Bunny will make an appearance, we will have an egg toss for prizes and we will announce the race award winners.
Schedule:
12 noon – Sign in, petting zoo
12:45 pm – Announcements/commercials for MWM, Run to the Pub, Oberweis, Relay for Life & A-1 Cycling
12:50 – National Anthem
12:55 – "Lose Yourself"
1:00 PM – Race starts
1:15…. "Unstoppable" by The Score
1:30 – Easter Bunny
1:50 – Egg Toss
2:00 – Egg Winners
2:15 – Race Award winners.


on Twitter


on Facebook


on Google+