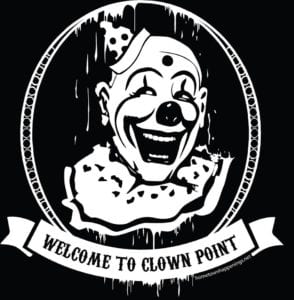 Clown Point 5K Run/Walk |Hometown Happenings
Lake Co. Fairgrounds, 889 S, Court St., CP
Friday, October 27, 7:00 pm (6:15 pm sign-in)

2016 Halloween 5K Race Results
2016 Photos by Andy Neal Photography
Please "like" our Hometown Happenings  facebook page.
Are you afraid of clowns? You WILL be!
The Legend: In the Fall of 1936, the Wallace Porter Circus set up along the edge of Fancher Lake for a performance.  A fire breaks out in the performer's tent, leaving several clowns dead.  It is said their spirits return every October looking to rejoin the circus that left them behind.  Do you dare find out?  You would best be advised to avoid dark places along the course.  Also, please wear a headlamp or bring a flashlight.
Your 5K Run/1 Mile Walk Entry Fee Includes: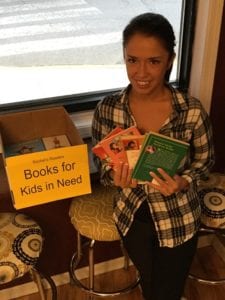 Ghostly clowns chase you along the route!
Awards for Top Overall & Top 3 Finishers in each age group
Find a pumpkin along the route & WIN a prize!
Special "Candy Dash" for the kids
DJ Halloween Party & registration in historic Fine Arts Building
Prizes for Best "Individual" & "Group" Costumes!
Bring a bag of new or gently used books for kids in need & receive $5 off a future Hometown Happenings event.
Cost: $20 for adults, $10 for kids.  $30 on event day.  Shirts extra $10 each & not included in entry fee & need to be ordered by October 13th.  A limited number of shirts may be available on event day at $10 each (not included in entry fee).  All sales are final.  No refunds or substitutions.  Shirts not claimed prior to race will be re-sold after the race.

The COURSE:  A 5K run/1 mile walk along the wooded paths and through the many shelters, giving the terrifying clowns many places to hide!
Registration/sign-in is at 6:15 pm.  If you have any questions, email us at Tim@yourhometownevents.com
RACE AWARDS: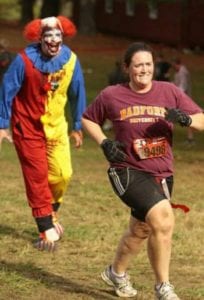 Top Overall & Top 3 Finishers in each age group
Please Note:  This is our 2nd annual Clown Point 5K.  This event is done in fun and not meant to "endorse" ill-minded people who would dress as clowns to harm others.
Advertise with us & Make a Difference!
Make a difference! Your generosity helps cover the costs of t-shirts, insurance, course management, etc. Please consider adding your business to our list of sponsors. Stop in and visit our current sponsors and thank them for supporting our events.
OrangeTheoryFitness – 835 Joliet St., Dyer, IN.  (219) 224-2660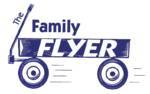 on Twitter


on Facebook


on Google+