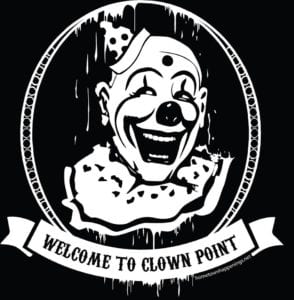 I have gotten a few messages recently with people asking if I am concerned about the recent events involving people dressed as clowns affecting our 2nd Annual Clown Point Smash & Dash 5K?
Like everyone else, it concerns me any time people wish to do harm to others, whether they are dressed as clowns or not.  If you have not been to our annual event before, this is a run/walk where participants are chased by clowns through the woods and dimly lit shelters of the Fairgrounds.  For those coming, please know that we pre-select our clowns from local high school clubs ahead of time.  Also, we don't permit the clowns to touch the participants.    It is similar to a "zombie" run, but far more frightening!
Like all our events, we try to make the event as fun and as safe as possible for everyone.
Some are even wondering if the event should be canceled?  This event, like all of our events is done for fun.  I asked my Pastor about this and his reply was "Halloween is the one day of the year where it's ok to be inappropriate."  On Halloween, women dress in costumes they would probably not wear the rest of the year.  Kids dress like the movie serial killers Freddie and Jason.  And yes, people dress like Pennywise the Clown from Stephen King's "It".  Is any of this appropriate the rest of the year?  Probably not.  But, most of us are ok with it for Halloween.
So, I certainly don't wish to offend people who are concerned about clown sightings elsewhere.  But, just know, at our event, it is done in fun and we are trying to be as safe as possible.  Thank you and I very much hope to see you at the Clown Point Smash & Dash 5K!


on Twitter


on Facebook


on Google+