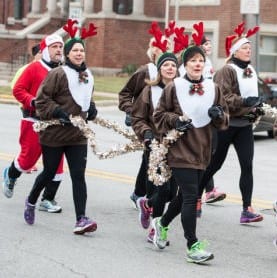 Santas will be coming to town for the 7th Annual Hometown Happenings Santa Run, Walk & Ride at 9 am, Dec. 23rd in Crown Point, starting from St. Mary Catholic Community School, 405 E. Joliet St.  Registration begins at 8 am.
Dressed in full Santa suits and other holiday wear, participants run or walk down Crown Point's Main Street spreading holiday cheer as cars honk and people wave in this annual holiday tradition.  Participants can choose to enjoy either a noncompetitive 5K or a 1 mile route through the heart of historic Crown Point.  For those not able to walk or run, Molly the Trolley will be offering rides along the course.
This year's event will be hosted by Robin Rock,radio host at 93.9 MY FM.  Other highlights include the chance to win jewelry worth $150, a visit with Santa and Star Wars characters, DJ music, a selfie photo booth & prizes for best individual and group costumes.
One of the unique features to the Santa Walk & Run is that when participants register, they will vote for a local charity they wish to see benefit from the event.  Any school, church, or local charity that receives 20 votes from participants is eligible to benefit.  We are also giving away a free pair of shoes to a girl in need for any votes cast for Girls on the Run of Northwest Indiana.  Last year, Humane Indiana, Mommy's Haven & St. Many Catholic Community School shared in the proceeds.
Advance registration for the event is $20 for adults, $10 for kids.  Children under age 3 are free.  Registration at the event is $30.  Advance online registration is available at https://www.yourhometownevents.com/runs-walks/santarun/