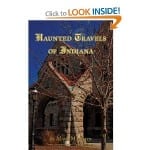 If you attended Sunday night's performance of the "Haunted Travel Guide to Indiana", you had the opportunity to enter two contests we held that night.  One contest was for "liking" us on facebook.  You can find our facebook page HERE.  The winner of this contest is Sharon Guerrero who one a signed copy of Mark Marimen's book, "Haunted Travels of Indiana."
The second contest was for subscribing to our newsletter.  The winner of that contest is Kris Guinn who will be receiving 2 tickets to Mark's next show on October 21st, "Hauntings of Northwest Indiana".
Congratulations to our winners and thank you so much for supporting our events.  It is your support that makes our events successful and we love that you have made yourselves a part of our success!
See you soon on Sunday, October 21st at the "Hauntings of Northwest Indiana."