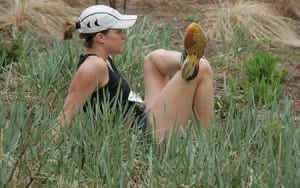 Hometown Happenings is very proud to announce its sponsorship of Lindsay Hattendorf  in her second attempt to qualify for the Olympic time trials for the marathon distance.  Lindsay hopes to reach this goal at the 2013 Chicago Marathon this October.
In her very first marathon in 2009, Lindsay finished with a time of  2:48.46.  This means only 17 women – and only 8 American women – finished ahead of her.   Since college she has wanted to qualify for the Olympic trials.  Her first attempt was only a minute off from the time she needed.
Lindsay accomplished all of this knowing, just 3 weeks prior, that she had been diagnosed with Type 1 Diabetes.  For the 2013 Chicago Marathon, she has taken on the extra challenge of raising funds for Diabetes research.  Diabetes affects 26 million Americans and, unfortunately, these numbers continue to increase.
While we may not be able to keep up with Lindsay at the race, we can all join her in funding this critical research.  To find out more and to make a donation, please visit her page HERE.  A donation in any amount will go a long way towards making a big difference in this fight!