It's been a very busy last few weeks and there is lots of exciting news for the Santa Runs.  Here is the latest news for each of the locations: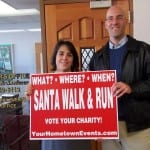 Hobart on December 8th:  We have been working closely with the Mayor's office and the Office of Special Events in Hobart.  Their cooperation has been invaluable in getting the Santa Walk & Run established there.  I met with them yesterday and the plan is to have a fire truck lead the runners down their main street right through the center of town!  Just like in Crown Point, this is going to make for some great pictures!
I also met with the Hobart YMCA yesterday.  He told me he had been in a meeting that morning with members of the Southlake YMCA and, after hearing about their experience with last year's Santa Walk & Run, he couldn't wait to become a part of the Hobart event!  Other organizations joining us in Hobart will be the Hobart Police K-9 Unit and the Hobart Fire Department.
Highland on December 15th:   I also met with Carl Zurbriggen of the Griffith YMCA and members of his staff yesterday.  Carl took me on a tour of the former elementary school that he and members of the YMCA are working hard to renovate into their facility.  It's amazing what they have been able to accomplish so far.  But, as the tour continued, I soon realized how much more still needed to be done.  One of our stops included some empty classrooms.  Carl explained that there are many working moms in their area who can't afford daycare.  Part of the Griffith YMCA's vision is to not only meet this need, but to have their daycare act as a preschool as well.  If they can focus on teaching these kids early life skills, they are less likely to fall behind when they enter kindergarten.   He hopes that the Griffith YMCA will be one of the "top vote getters" in Highland so that they can make their daycare a reality.
Crown Point on December 22nd:  Earlier this week, I met with St. Jude House who received money from last year's Santa Walk & Run.  St. Jude House is a family violence prevention center in Crown Point.  They used last year's donation to update their children's room to make it more comfortable and to feel more like home for the kids who stay there.  This year, they would like to focus on improving the reading skills of their children by updating their library and adding reading programs.
Both the Southlake YMCA and St. Mary's Catholic Community School have also teamed up again with us this year.  For both of these organizations, there is a long list of equipment they need for their kids.
One thing I like about the requests we get is that it's never for individual gifts for the kids an organization serves.  Instead, it's about improving play areas or buying equipment that a LOT of kids will be able to use for MANY years to come.  I feel this gives what we do with our events a more lasting impact on our community.  But, this is only possible because you come out to join us for one (or all) of our Santa Walk & Run events!