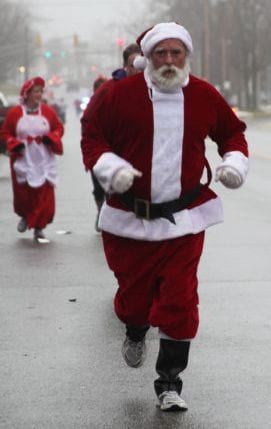 Santas will be coming to town for the 6th Annual Hometown Happenings Santa Walk & Run at 9 am, Dec. 19th in Crown Point, starting from St. Mary Catholic Community School, 405 E. Joliet St. Registration begins at 8 am.
Dressed in full Santa suits and other holiday wear, both walkers and runners will be led by Santa and his Sleigh on a noncompetitive 5K route that will proceed up and down Main Street.  There is also a 1 mile route for walkers.
This year's event will be hosted by Michael Essany who hosted "The Michael Essany Show" on the E! Network for two seasons. Michael plans to do a shortened version of his show after the run. Other highlights include live music, a photo booth and testing your hockey skills against the Crown Point Bulldog Hockey Team.
One of the unique features to the Santa Walk & Run is that when participants register, they will vote for a local charity they wish to see benefit from the event. Any school, church, or local charity that receives 20 votes from participants is eligible to benefit. So far this year, Girls on the Run of Northwest Indiana, The Humane Society Calumet Area and St. Many Catholic Community School will be among those to share in the proceeds. The organization receiving the most votes will also receive an additional $250 cash prize.
Advance registration for the event is $15 for all ages. Children under age 3 are free. Registration at the event is $25. Advance online registration is available at HometownHappenings.net.