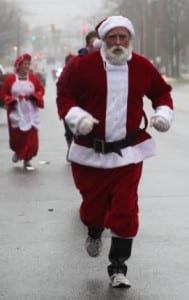 Santa Clauses in all shapes and sizes will be coming to town on Saturday, December 20th at 9 a.m. as Hometown Happenings hosts their annual Santa Walk & Run starting at St. Mary's Catholic Community School, 405 E. Joliet St. Registration begins at 8 a.m.
The registration fee is $15 for adults and $10 for children 12 and younger prior to the event. Registration at the event is $25 for all ages. Long sleeve cotton shirts are being sold separately for $10.
Dressed in full Santa suits and other holiday wear, both walkers and runners will be led by a fire truck on a non-competitive 5k route or one mile walk that will proceed up and down Main Street.
Additional features include live performances along the route as well as back at the school, a photo booth, and appearances by both Santa and Scrooge. The Crown Point Bulldog Hockey team will also be there for you to test your goal scoring skills against them.
New to the event this year is participants may form a team and take part in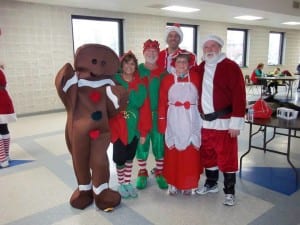 the "Sleigh Races". Registered participants collect donations and sponsor pledges to raise money for their favorite local church, school or charity. Once $100 in donations is collected, teams will bring a check payable to their selected organization to Carriage Court Pizza where they will pick up a sleigh and be entered for the race. Cash prizes will be awarded for "Fastest Sleigh" and "Best Decorated".
With a few restrictions, almost any school, church or charitable organization is eligible to benefit from the event. Past Santa Walk and Run events have raised thousands of dollars for local organizations including the Crossroads YMCA, St. Mary Catholic Community School, St. Jude House and Meals on Wheels.
Advance online registration is available at www,HometownHappenings.net. Mail-in registration forms are available both online and at Carriage Court Pizza, 211 S. East St.


on Twitter


on Facebook


on Google+