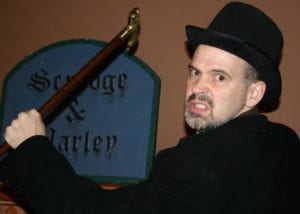 This event has been Canceled!
More storytelling events will be held in the future!  Thank you for your support!
"A Christmas Carol" – Canceled!
Thursday, Dec. 22nd, 7 PM
First United Methodist Church
352 S. Main St, Crown Point, IN
Charles Dickens wrote some of the most recognized literature and created some of the most beloved characters in English literature.  Among his most famous works is "A Christmas Carol".  The story was so popular that, from 1853 until his death in 1870, he did public readings of the story on stage in front of an audience.
Join Master Storyteller Grant Fitch as he recreates this experience by portraying Charles Dickens himself and acting out ALL the parts of this famous tale.  Join Tiny Tim, Bob Cratchit and the Ghosts of Christmas Past, Present and Future for an unforgettable evening for the entire family!
Tickets are only $10.
Where:
All events will be held at the First United Methodist Church at 352 South Main Street, Crown Point, IN.
Doors open at 6:30 p.m. Concessions will be available.


on Twitter


on Facebook


on Google+