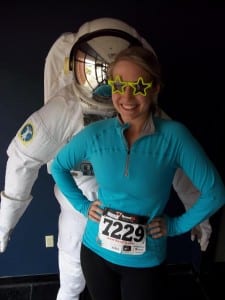 What makes the Space Race 5K special and why should you cancel all other plans and come out and join us on Sunday?  Well, we have been working extremely hard for the last several months to give you many reasons.
Perhaps the reason we are most excited about is that shuttle astronaut and Crown Point native Colonel Jerry Ross will be attending the event.  He is just one of a handful of people in the history of the world who has ever been in space, let alone gone on space walks!
Colonel Ross is participating because he believes passionately in the mission of the Challenger Learning Center.  This science center honors those astronauts that were killed in the Challenger disaster by continuing the educational mission they started.  Students from all over Northwest Indiana and Illinois take part in the Center's simulated space missions that get kids excited about science, technology, engineering and math.
Will you learn something by attending the Space Race 5K?  Most likely.  We have all kinds of fun science related activities after the race that will interest kids of all ages.
What about the serious runners?  By all means, this race is made for serious runners!  It's an interesting course and some of the most elite athletes in the area will be there to lay their claim on establishing a course record.  For those athletes who claim the top spot in their age groups, we have awards that are "out of this world".  At least, they will have been given a personal touch by someone who has been out of this world!
Any other reasons to come?  Lots!  Ashleigh Ashton, a rising country music star who was featured in a national T-Mobile commercial will be singing our National Anthem.  DJ Angela from Radio Disney will be on hand to say hello to fans.  The race will also have live storm troopers and a moon buggy that just placed in a NASA sponsored competition at the race.  The Center will be open offering simulator tours and laser light shows in its planetarium.  Also, don't forget to come in costume and enter our space-themed costume contest.
With all these reasons listed, there is certainly no reason not to join us this coming Sunday!  We hope we will see you there.  To register online, click here!